Almond nutrition studies, calculators, and further reading:
Almond Early-Season Sampling and In-Season Nitrogen Application Maximizes Productivity, Minimizes Loss
Authors: Sebastian Saa Silva, Saiful Muhammad, Blake Sanden, Emilio Laca, Patrick Brown (UC Davis and UC Cooperative Extension, Kern County)
Published in 2012.
 

California Almond Stewardship Platform Homepage
Visit the California Almond Stewardship Platform homepage, led by the Almond Board of California.

Crop Nutrient Status & Demand in Almond: Patrick Brown
Visit UC ANR here for access to more spreadsheets and information on almond nutrient demand.
Almond Early-Season Sampling and In-Season Nitrogen Application Maximizes Productivity, Minimizes Loss Protocol for Early-Season Sampling and In-Season Nitrogen Budgeting
Protocol for Early-Season Sampling and In-Season Nitrogen Budgeting
Efficient and profitable nitrogen (N) application demands that N be applied at the right rate, with the right timing and in the right location, so that productivity is maximized and the potential for N loss to the environment is minimized. The goal of N management is to apply adequate but not excessive amounts of N. You cannot enhance orchard productivity by providing N in greater amounts than is demanded by the crop. With proper management, optimal productivity and minimal N loss can be achieved simultaneously. To help growers achieve the goal of efficient and profitable nitrogen application, a new method of tissue testing and yield-driven fertilization has been developed. The following approaches are based on four years of research at multiple sites and were validated in additional trials in 2012.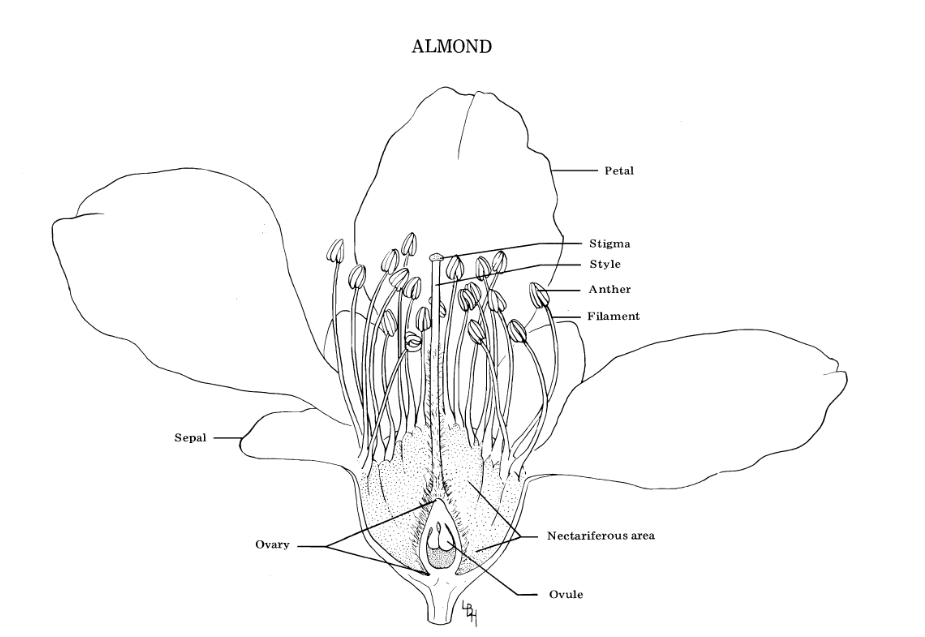 Leaf Sampling:
The current practice of sampling leaves in July is too late to allow for current-season adjustment of fertilization practice, and leaf sampling alone does not provide sufficient information to make fertilizer recommendations. An improved method of leaf sampling and fertilization management has been developed that utilizes April leaf sampling and yield estimations to predict N demand and to allow for in-season fertilizer adjustments.
Sample all the leaves of 5–8 non-fruiting, well-exposed spurs per tree at approximately 43+/-6 days after full bloom when the majority of leaves on non-fruiting spurs have reached full size. In the majority of California orchards, this corresponds to mid-April. Should sampling at this date not be possible, then please note the date of sample collection on the sample bag.
Collect leaves from 18–28 trees per orchard. Combine all leaves in a single bag for submission to a reputable laboratory. EACH SAMPLED TREE MUST BE AT LEAST 30 YARDS APART. A minimum of 100 leaves per sample bag is required.
Send the samples to the lab and ask for a FULL NUTRIENT ANALYSIS (N, P, K, B, Ca, Zn, Cu, Fe, Mg, Mn, S) and application of the UCD-ESP program.
Integrated Guidelines for Tissue Sampling, N Budget Determination and Nitrogen Fertilization Scheduling:
The recommended approach to N fertilization scheduling consists of the following six steps. These steps should be repeated for each orchard block.
Conduct a preseason (January) estimate of expected yield, based upon historic yield trends for each orchard, last year's yield, and grower experience.
Estimate annual inputs of N in irrigation water, manures, composts, etc.
Calculate preliminary fertilization rates and timings, and make first application of fertilizer in early- to mid-spring (March – April).
Collect and analyze April leaf samples according to preceding instructions.
Conduct in-season yield estimation (April – May).
Adjust fertilization strategy for remainder of year to reflect April leaf and yield estimates.
Right Timing:
Efficient fertilization and N management require that crop nitrogen demand is satisfied, and N is applied coincident with root uptake. The dynamics of N accumulation in annual tree structures (leaves and fruit) and perennial tree structures (roots, trunk and branches) were determined in a series of experiments conducted in high-yielding orchards throughout California from 2008–2012 (Fig. 1). The pattern and rate of N uptake from the soil can be derived from analysis of N accumulation in fruits (hulls, shells and kernels) and leaves, and N depletion and accumulation in perennial organs (trunk, branches and woody roots) (Fig. 2).